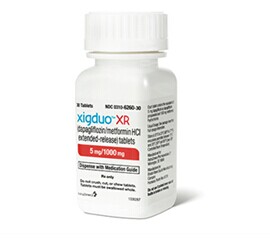 Xigduo XR is an SGLT2 inhibitor drug used in combination with diet and exercise to treat type 2 diabetes. Xigduo XR contains a combination of two active ingredients, dapagliflozin and metformin, which help control blood sugar levels. Xigduo XR works by helping the kidneys get rid of glucose from the bloodstream, as well as by lowering glucose production in the liver and by causing intestines to absorb less glucose.
However, injuries such as kidney failure, heart attack, and ketoacidosis have been linked to brand name SGLT2 Inhibitors, such as Xigduo XR and injured users may be able to file a Xigduo XR lawsuit. Other SGLT2 inhibitors have been linked to these serious consequences as well, and are sold with brand names: Invokana, Farxiga, Jardiance, Glyxambi, and Xigduo XR. These medications are called sodium-glucose cotransporter-2 (SGLT2) inhibitors and essentially all work by helping the kidneys to remove sugar in the blood through urine.
Type 2 Diabetes medicine may cause serious side effects
In March 2015, the Food and Drug Administration (FDA) released a warning regarding the use of these SGLT2 inhibitors, which reports have shown can lead to a life-threatening condition called ketoacidosis, as well as to kidney failure and heart attack.
The FDA has received 20 reports of these SGLT2 drugs causing ketoacidosis in users, which is a serious medical condition in which the body is unable to produce enough insulin, and levels of blood acids called ketones are too high. Ketoacidosis is a serious medical condition that, if left untreated, can lead to a diabetic coma or even death.
Xigduo XR injury lawsuit
If you or a loved one suffered a serious injury or death related to taking Xigduo XR or any other SGLT2 inhibitor drug, you may be entitled to substantial compensation.  The experienced product liability attorneys with The Cochran Firm, D.C. can help you recover lost wages, hospital bills, pain and suffering, and other damages.
The Cochran Firm, D.C. offers free, prompt, and confidential case reviews.  We have a team of investigators and registered nurses who will help investigate if your injury was caused by taking the diabetes drug Xigduo XR. We represent our clients on a contingency basis so there are no legal fees unless we recover compensation for you.
Call us locally at 202-­682-­5800 during business hours or at 1-­800-­THE-­FIRM (843­-3476) to reach us 24 hours a day.  You may also fill out a contact form in order to receive a free, prompt, and confidential case review.  There are strict time deadlines when filing an Xigduo XR injury claim so please contact us at your earliest convenience and preserve your legal rights.