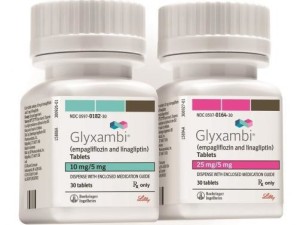 In March 2015, the Food and Drug Administration issued a Drug Safety Communication warning patients taking Glyxambi about possible risks of developing ketoacidosis and other serious health conditions.  Glyxambi contains sodium-glucose cotransporter-2 (SGLT2) inhibitors prescribed to treat type 2 diabetes in combination with changes in diet and exercise. Individuals who suffered severe side effects after taking the drug may be eligible to file a Glyxambi lawsuit in order to recover compensation for damages and injuries.
SGLT2 inhibitors are being investigated by health agencies in the United States, Canada, and Europe for possible links to severe medical conditions.  Other SGLT2 inhibitors named in the FDA's March 2015 Drug Safety Communication include:
Invokana (canagliflozin)
Invokamet (canagliflozin and metformin)
Farxiga (dapagliflozin)
Xigduo XR (dapagliflozin and metformin extended-release)
Jardiance (empagliflozin)
What is Glyxambi?
Glyxambi is a combination of two medications (empagliflozin and linagliptin) taken orally to treat type 2 diabetes. Glyxambi was developed by Boehringer Ingelheim and Eli Lilly and Company.  Glyxambi was approved by the FDA in 2015.
Empagliflozin is the SGLT2 component of Glyxambi.  SGLT2 inhibitors treat type 2 diabetes by forcing the kidneys to expel excess sugars through urine. Empagliflozin was developed by Boehringer Ingelheim and Eli Lilly and Company and sold as Jardiance.  Jardiance was first approved by the FDA in 2014.
Linagliptin is a dipeptidyl peptidase (DPP-4) inhibitor also developed and marketed by Boehringer Ingelheim and Eli Lilly and Company.  It was first approved to treat type 2 diabetes by the FDA in May 2011.  Linagliptin works to treat type 2 diabetes by increasing insulin and decreasing glucagon in the blood stream.
Glyxambi side effects
The FDA warns Glyxambi may be linked to ketoacidosis.  Ketoacidosis is a serious medical condition which may result in hospitalization or death.  Patients with ketoacidosis suffer from an over abundance of fatty acids in the blood stream due to a lack of insulin.  Increased levels of fatty acids cause the blood's pH level to drop and lead to hospitalization or death.  Symptoms of ketoacidosis include abdominal pain, difficulty breathing, sweet smelling breath, nausea, vomiting, and fatigue.
Type 2 diabetes patients taking Glyxambi may also develop pancreatitis.  Pancreatitis is an inflammation in the pancreas and can result in death if not properly treated.  Symptoms of pancreatitis include severe upper abdominal pain, upper body pain radiating all the way to the back, vomiting, and nausea.
SGLT2 inhibitors linked to severe injuries
Medical studies have raised questions about possible links between taking SGLT2 inhibitors and an increased risk of heart attack, stroke, and kidney failure.  Glyxambi has only been on the market for a short period and all side effects may not be known to the public at this time.  If you or a loved one are experiencing any of the symptoms of ketoacidosis, pancreatitis, heart attack, stroke, or kidney failure, contact your doctor as soon as possible.
The Cochran Firm, D.C. is currently investigating serious caused by taking Glyxambi and other SGLT2 inhibitors.  If you or a loved one suffered a severe injury while taking Glyxambi, you may be entitled to substantial compensation.  Our firm has a team of seasoned and dedicated product liability attorneys ready to investigate your Glyxambi injury claim.
Glyxambi injury lawyers
Filing a Glyxambi injury lawsuit can help you and your family recover for lost wages, hospital bills, medical expenses, pain and suffering and other damages.  The Cochran Firm, D.C. regularly represents victims of defective drug injuries and are ready to help you get the compensation you deserve.
Contact The Cochran Firm, D.C. for a free, prompt, and confidential case review. Call us locally during business hours at 202-682-5800 or at 1-800-THE-FIRM (843-3476) to reach us 24 hours a day.  You may also fill out a contact form here on our website.
Strict time deadlines apply when filing a Glyxambi injury lawsuit.  Please contact The Cochran Firm, D.C. today and preserve your legal rights.