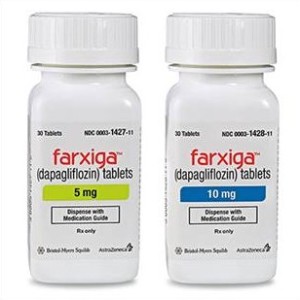 Farxiga (dapagliflozin) is a type 2 diabetes medication in a class of drugs known as SGLT2 inhibitors.  The U.S. Food and Drug Administration recently issued a Drug Safety Communication warning Farxiga users about the possible link between taking the drug and developing serious medical conditions. Individuals who suffered serious health problems after taking Farxiga may be eligible to file a Farxiga lawsuit for compensation.
Farxiga is a once-daily oral medication marketed by Astrazeneca.  The FDA approved Farxiga for sale in January 2014, making it the second SGLT2 inhibitor approved by the FDA to treat type 2 diabetes.  Farxiga is marketed as Forxiga in Europe. Astrazeneca also markets Xigduo XR, a combination of dapagliflozin and metformin. Metformin treats type 2 diabetes by suppressing glucose production in the liver.
SGLT2 inhibitors linked to ketoacidosis
SGLT2 inhibitors treats type 2 diabetes by forcing the kidney to expel excess glucose through urine.  Because of its effect on the kidneys, Farxiga and other SGLT2 inhibitors may impair proper renal function.  Farxiga and SGLT2 inhibitors are being evaluated by American, Canadian, and European health agencies for possible links to increased risk of heart attack, stroke, and kidney failure.
Farxiga may also lead to ketoacidosis, a serious medical condition which can lead to hospitalization or death.  Ketoacidosis occurs when the body does not have enough insulin to facilitate the proper absorption of fatty acids called ketones.  Excessive ketones can cause the blood's pH to drop.
Ketoacidosis can lead to severe injuries like diabetic coma, cerebral edema, or even death.  Symptoms of ketoacidosis include:
Nausea
Vomiting
Abdominal pain
Fruit smell on breath
Difficulty breathing
Frequent urination
Excessive thirst
Disorientation, confusion or fatigue
Farxiga injury lawyers
If you or a loved one were hospitalized or suffered a serious injury while taking Farxiga, The Cochran Firm, D.C. can help.  By filing a Farxiga injury lawsuit, we can help your family recover lost wages, hospital bills, medical expenses, pain and suffering, and other damages. The Cochran Firm, D.C. has the resources of a national law firm and are ready to go toe-to-toe with drug manufacturers to get you and your family the compensation you deserve.
The Cochran Firm, D.C. is offering Farxiga injury victims free, prompt, and confidential case reviews.  We represent Farxiga injury claims on a contingency basis so there are absolutely zero legal fees until we win your case.
Call Farxiga injury attorneys of The Cochran Firm, D.C. at 202-682-5800 at our local number to speak to us during business hours or at 1-800-THE-FIRM (843-3476) to reach us 24 hours a day.  You may also fill out an online contact form to receive a free consultation.
Strict time deadlines apply when filing a Farxiga injury lawsuit so please contact us at your earliest convenience and preserve your rights.