In its Quarter 2 edition of its Quarterly Watch publication, the Institute for Safe Medication Practices (ISMP) raised important questions about the long term health effects of taking Invokana and other SGLT2 inhibitors.  The ISMP analyzed data indicating Invokana use could be linked to serious injuries like kidney failure and hypersensitivity.
Invokana (Canagliflozin) is a type 2 diabetes medication marketed by Janssen, a division of Johnson & Johnson.  Invokana is part of a class of drugs known as sodium-glucose cotransporter 2 (SGLT2) inhibitors.  SGLT2 inhibitors treat type 2 diabetes by forcing the kidneys to expel glucose through the urine, rather than be metabolized in the bloodstream.
The FDA approved Invokana to treat type 2 diabetes in 2013 and has since become a very popular medication among diabetes patients.  According to the ISMP, almost half a million Invokana prescriptions were filled in the second quarter of 2014.
ISMP report identifies several serious medical conditions related to Invokana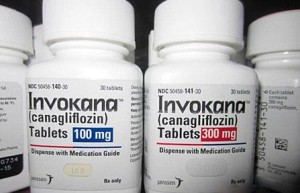 The ISMP discovered 457 serious adverse event reports by Invokana users in the second quarter of 2014, noting the number to be higher than 92% of the drugs the ISMP monitors.  The ISMP identified six types of serious adverse events related to the 457 events reported including:
Kidney failure: 54 Invokana users reported acute or unspecified kidney failure. The ISMP noted Invokana animal studies showed long term kidney damage, kidney and testicular cancers, and bone abnormalities.
Dehydration: 54% of the 54 Invokana users experiencing dehydration required hospitalization.
Urinary tract infections: 14% of women and almost 4% of men experienced urinary tract infections at a rate four to six times higher than normal.  The ISMP speculates urinary tract infections may not be fully reported to the FDA.
Kidney stones: 11 users reported developing kidney stones, a condition not specified on Invokana warning labels or FDA safety reviews.
Weight loss: Obese patients may lose between six to nine pounds while taking Invokana and may contribute to adverse events.
Hypersensitivity: Rapid swelling of the face, mouth, throat and tongue (angioedema) requiring emergency treatment were reported among the 457 adverse events discovered by the ISMP.
Long term health effects of Invokana remain unknown
The ISMP concludes despite the volume of patients taking part in Invokana studies, the lack of long term studies does little to quell concerns about the drug's safety. The ISMP is concerned the current data on Invokana does little to address questions about the long term safety of Invokana and whether or not the type 2 diabetes medication could lead to kidney failure, increased risk of bone fractures, or heart attacks.
If you or a loved one suffered a serious injury while taking Invokana, contact The Cochran Firm, D.C. We are offering free, prompt, and confidential case reviews for Invokana injury victims.  Call us locally at 202-682-5800 during business hours or at 1-800-THE-FIRM (843-3476) to reach us 24 hours a day.  You may also fill out a contact form online in order to receive a free Invokana lawsuit case review.