Johnson & Johnson report $340 million in 2015 Q3 sales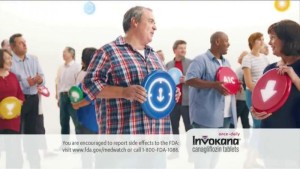 Third quarter Invokana sales in 2015 skyrocketed 95.4% over the same quarter in 2014, according to filings submitted to the Securities and Exchange Commission (SEC) by Johnson & Johnson, the parent company of Invokana maker Janssen. Worldwide sales of Invokana totaled $340 million in the third quarter of 2015 compared to $174 million in the third quarter of 2014.
During the third quarter, Invokana outpaced every other drug in Johnson & Johnson's catalog, according to public filings. No other J&J drug came close to matching Invokana's year-over-year sales growth.
Despite health concerns, Johnson & Johnson remains optimistic about Invokana
Johnson & Johnson believes health studies will eventually show Invokana reduces the risk of heart attack and stroke, according to the company's CEO. The statement comes despite one-third of all experts on the Food and Drug Administration's (FDA) Endocrinologic and Metabolic Drugs Advisory Committee (EMDAC) voting in 2013 against the sale and marketing of Invokana due to concerns that the drug may increase the risk of adverse cardiac events.
In 2015, the FDA released two Drug Safety Communications on Invokana. In May 2015, the FDA warned sodium-glucose cotransporter-2 (SGLT2) inhibitors like Invokana may cause ketoacidosis, a serious medical condition which can result in diabetic coma or death. In September 2015, the FDA released another Drug Safety Communication revising Invokana's warning label to reflect an increased risk of bone fractures while taking the type 2 diabetes drug.
Lawyers for serious Invokana injuries
Despite Johnson & Johnson's optimism about Invokana, The Cochran Firm, D.C. continues to actively monitor reports on the drug's safety and efficacy. Powerful drug companies like Johnson & Johnson have a history of putting profits before people, often going to great lengths to deny their products' propensity to cause serious injuries.
If you or a loved one suffered a serious adverse event while taking Invokana, contact an Invokana lawsuit attorney of The Cochran Firm, D.C. Our law firm offers free legal consultations to Invokana injury victims and can help determine if you have a compensation claim against Johnson & Johnson for your injuries.