Janssen Pharmaceuticals paying doctors for speaking fees, consulting, and travel to promote Invokana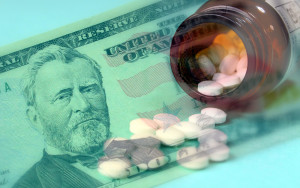 According to data provided by non-profit investigative news organization ProPublica, Janssen Pharmaceuticals, Inc. and its subsidiaries gave $26.9 million to doctors and hospitals from August 2013 to December 2014, promoting its new type 2 diabetes medication, Invokana. That large sum constitutes just under half of all payments Janssen made to doctors promoting its various medical systems and drugs. From August 2013 to December 2014, Janssen gave $54.2 million to doctors and hospitals.
In May 2015, the Food and Drug Administration (FDA) issued a Drug Safety Communication warning Invokana may result in ketoacidosis, a serious medical condition requiring hospitalization. Ketoacidosis can result in serious side effects including diabetic coma, swelling of the brain. If left untreated, ketoacidosis may result in death. The FDA warns other possible side effects include kidney problems and elevated cholesterol.
According to ProPublica, the money Janssen gave to individual doctors ranges from a few hundred dollars for food, travel, and lodging to tens of thousands of dollars for "consulting"  fees and "serving as faculty and speaking" at events dedicated to promoting Invokana. One doctor in Annapolis, Maryland received three separate payments in one day totaling $9,000 for "speaking, promotion, and education events."
Data collected by ProPublica is available because of the Physician Payment Sunshine Act, a part of the 2010 Affordable Care Act. Federal law now requires pharmaceutical and drug companies to disclose payments to doctors and teaching hospitals for speaking fees, research, and consulting. The Center for Medicare and Medicaid Studies (CMS) catalogs this data and makes it publicly available through its Open Payments Data program.
Statistics provided by CMS Open Payments Data show Janssen's largest individual payment made was $24,092.82 for a consulting fee to a doctor from San Antonio, Texas. CMS Open Payments Data also show Janssen gave hundreds of other consulting fees to doctors ranging from $1,000 to $15,468.75.
With CMS' Open Payments Data system, patients are able to search through data and see whether their physicians were given any money by pharmaceutical and drug companies. CMS suggests that patients who explore the data and discuss it with their doctors can make more informed healthcare decisions.
The Cochran Firm, D.C. is actively investigating side effects reported by Invokana users. Studies suggest Invokana may be linked to increased risk of heart attack, stroke, kidney failure, and ketoacidosis. If you or a loved one suffered a serious injury while taking Invokana, contact The Cochran Firm, D.C. for a free case review.