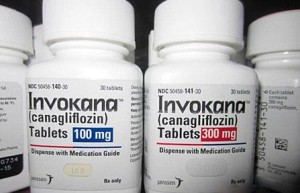 Diabetic ketoacidosis is a serious, potentially life-threatening medical condition. Diabetic ketoacidosis occurs when low insulin levels cause the body to produce too many blood acids known as ketones.  The increased ketones levels cause the blood's pH level to drop, resulting in serious medical complications.
Ketoacidosis may result from complications with insulin therapy.  In May 2015, the Food and Drug Administration issued a Drug Safety Communication informing Invokana and other SGLT2 inhibitor users about the increased risk of developing ketoacidosis while taking the type 2 diabetes medication.
Symptoms of diabetic ketoacidosis
The symptoms of diabetic ketoacidosis may develop over a 24 hour period.  If you notice any of the following symptoms of diabetic ketoacidosis, do not adjust your diabetes medications. Immediately seek medical attention if you notice signs of diabetic ketoacidosis:
excessive thirst or dry mouth
vomiting
abdominal pain
increased urine production
heavy breathing
low blood pressure
tachycardia (fast heart rate)
Diabetic ketoacidosis may cause serious injuries
Severe health complications may occur from developing ketoacidosis.  Swelling of the brain, known as cerebral edema, has also been associated with ketoacidosis.  Small children with diabetic ketoacidosis are especially susceptible to developing cerebral edema.
Diabetic ketoacidosis can result in hospitalization or death if left untreated. Diabetic ketoacidosis may lead to loss of consciousness, resulting in coma. 135,000 hospital admissions occur annually as a result of diabetic ketoacidosis.
FDA alerts Invokana users about links to diabetic ketoacidosis
In May 2015, the FDA issued a Drug Safety Communication warning diabetes users about the risk of developing diabetic ketoacidosis while taking Invokana and other SGLT2 inhibitors.  Other SGLT2 inhibitors linked to diabetic ketoacidosis include Invokamet, Farxiga, Xigduo XR, Jardiance, and Glyxambi.
There has been no recall issued yet for Invokana or any other SGLT2 inhibitors.  The FDA has instructed Invokana and other SGLT2 users to consult with their doctors before making any changes to their diabetes treatment. The Cochran Firm, D.C. is attentively monitoring the FDA for any potential signs for an Invokana recall.
Invokana diabetic ketoacidosis injury lawyers
If you or a loved one suffered a severe injury or complications with diabetic ketoacidosis while taking Invokana, you may be entitled to substantial compensation.  The product liability attorneys of The Cochran Firm, D.C. are actively investigating Invokana injury claims across the country.  By filing an Invokana injury lawsuit, you can recover compensation for lost wages, hospital bills, pain and suffering, and other damages.
The Cochran Firm, D.C. is offering free, prompt, and confidential case reviews for patients who believe their ketoacidosis and other severe injuries were caused by taking Invokana.  We represent our clients on a contingency basis so there are no legal fees unless we recover compensation for you. Fill out a contact form in order to receive a free, prompt case review.